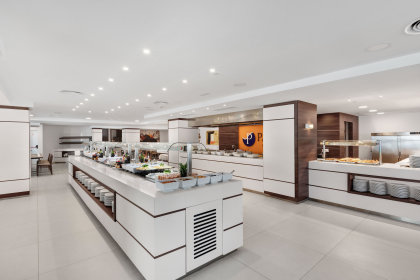 GASTRONOMY
The guests of the Aparthotel have access to all gastronomic offers of the hotel Pabisa Bali Park & ​​Tower, which is only 150 meters (2 minutes' walk) away. An extensive breakfast buffet with a varied selection, including fruit, muesli, juices and regional pastry is waiting for you. For lunch, hotel guests can enjoy a hot and cold buffet with a variety of dishes for every taste and a delicious selection of desserts. For dinner there is also a choice of cold and hot dishes from the buffet and dishes prepared directly in the restaurant at the show cooking station. Twice a week, our guests can experience different themed buffets for dinner. Information on the current themed buffets is available at reception.
The all-inclusive program also offers snacks, coffee and cake as well as non-alcoholic drinks in the hotel bars at Pabisa Bali Park & ​​Tower at certain times of the day.
You can enjoy delicious drinks at the Orlando Aparthotel's pool bar during the summer months.
Please also find more information about our All Inclusive Plus program, which includes many additional services in the vicinity of the apartment complex in Playa de Palma.