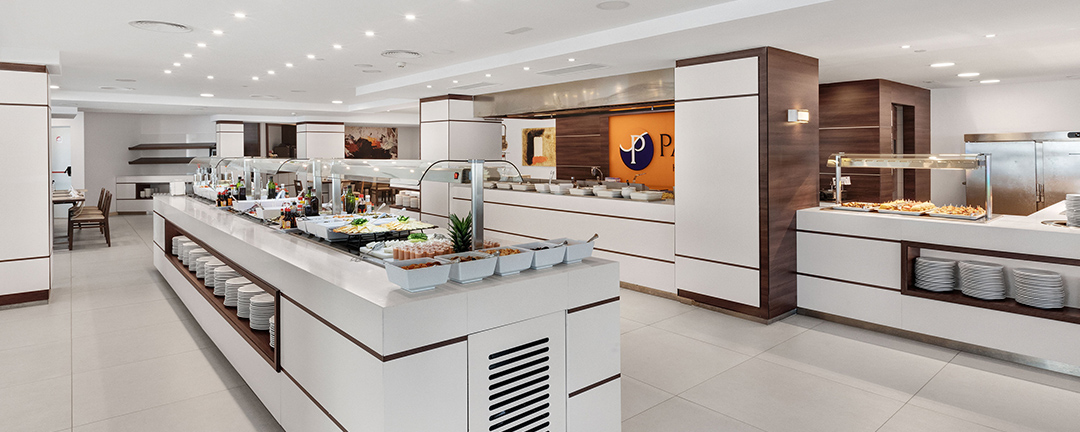 Interesting facts about the buffets at Pabisa Hotels
At Pabisa hotels in Playa de Palma there is food to please everyone. Whether you are a sportsperson, a vegetarian, someone with a food intolerance or a person who enjoys trying local or international specialities, we are sure that we have something to please even the most demanding palate.
The quality, variety, continuous innovation and the attention to detail to ensure we meet the needs of our clients are the foundations upon which the planning and preparation of the breakfast, lunch and dinner buffets at all of the Pabisa hotels is created.  
The Travelife sustainability certificate which we have held since 2018 ensures that we prioritise local suppliers and local produce from Majorca, Menorca, Ibiza and Formentera through our food and beverage purchasing policy.  
From the wide range of products available on the market, we select those that allow us to provide an attractive and appetising variety at the buffets. We work closely with suppliers to try new products when they become available and as a result we can create the exciting menus for the various gala dinners that we prepare at Pabisa Hotels: Majorcan, Andalusian, Spanish, tapas, Italian, European, Asian and Tex-Mex.
Choices for gluten free, lactose free, for athletes or for vegetarians
For clients with food intolerances (to gluten, lactose, etc.), we provide a wide range of cow's milk substitutes such as rice, oat, soya and almond drinks…….Lactose intolerant guests also have a choice of cheeses, yoghurts and ice creams which do not contain lactose and our coeliac guests can enjoy a range of different products at our hotels, including pastries, bread or breakfast cereals and also several different types of pasta.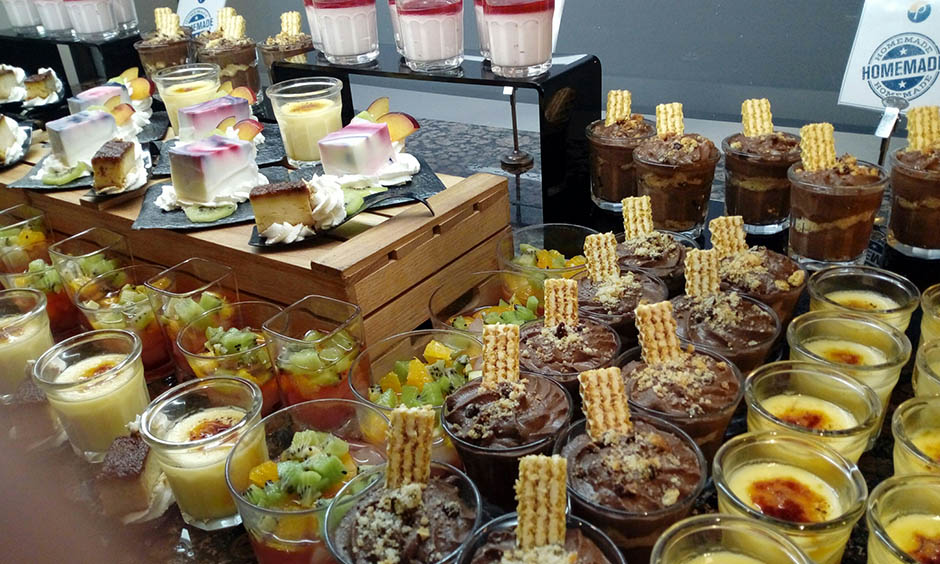 The breakfast buffets provide a selection that has been specifically designed for sportspeople which include pastries, dried fruits, porridge, freshly cut fruit, egg white omelettes on request, etc. Plus we are always adding new recipes and ingredients for vegan and vegetarian dishes.
1.300 diners per service
Each day during high season around 1,300 people eat at each service at the buffets at Pabisa Hotels. This is without taking into account the All Inclusive Plus service which is available between 11 in the morning and 5 in the afternoon, or the clients that enjoy something from our snack bar menu at the hotel Bali.
The opening times of the buffets at the Pabisa hotels are ample enough to accommodate the dining habits of the majority of our guests. Breakfast is served between 8.00h and 11.00h, lunch between 13.00h and 14.00h and dinner is served between 19.00h and 21.00 h.
Tags: Pabisa Hotels
---
all inclusiveall inclusive holidaysall inclusive hotels Playa de Palmabest all inclusive hotels Mallorcabest gastronomic offerbuffet Pabisa Balibuffets Pabisa Hotelsfood Mallorca hotelsfood Pabisa Hotelsgastronomic offer Pabisa Hotelsgluten freelactose free foodMallorca hotelsPabisa BaliPabisa HotelsPabisa Hotels MallorcaPabisa Hotels Playa de PalmaPlaya de Palmavegan