Pabisa Hotels concludes a series of successful promotional visits to tourism fairs
The marketing team at Pabisa Hotels have satisfactorily concluded their promotional 'tour' of the different tourism fairs across Europe which started towards the end of summer 2017 and lasted until March of this year. They have made a total of 11 trips to various events, some aimed at the general public and others attended only by travel industry professionals.
After putting in a great deal of work over the last few months, the chain has consolidated its position in traditional markets (especially Germany) and attend fairs in Holland and Portugal where there is great potential for bringing in new clients.
With help from the Balearic Tourism Agency (ATB), run by the Balearic Government, Pabisa Hotels has been able to promote its product at many tourism fairs aimed at the end customer. One of the longest has been TourNatur, in Düsseldorf, which launched the promotional season last September.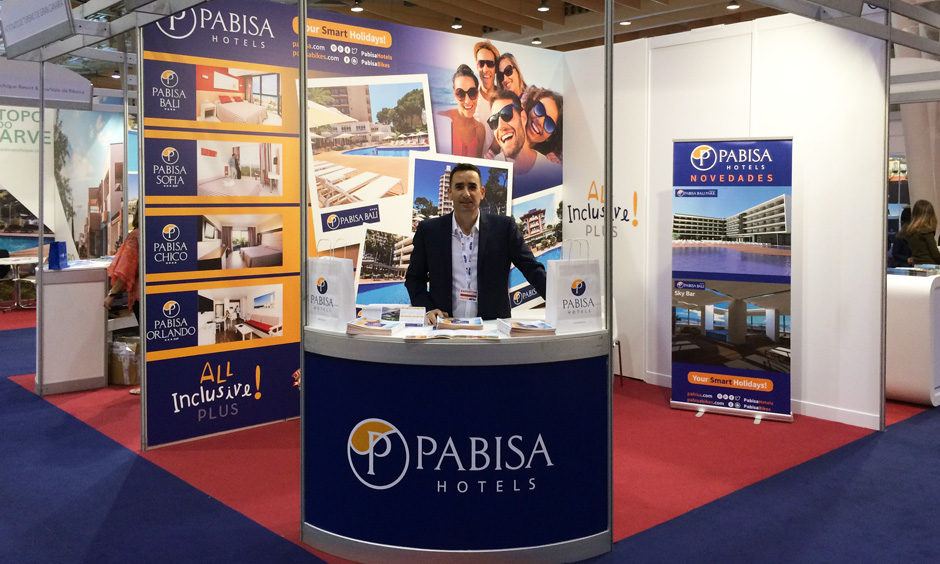 In Germany we also attended Reisen Hamburg and Free Munich, events specialised in beach holidays and in active and nature inspired tourism, respectively. These three events practically covered the whole country.
In order to introduce Pabisa Hotels to the Dutch market, we went to Vakantibeurs for the first time, celebrated in Utrecht in January. Another country where we have started to promote our chain is Portugal, an emergent market, and professionals from the Pabisa Hotels marketing department attended an event organized by the Mundo Abreu agency.
Amongst the actions aimed at professionals from the international travel sector, two events backed by TUI, with whom Pabisa Hotels has a collaboration agreement, stand out; the TUI roadshows in Belgium and the TUI Poland Spanish Event. Poland, as is the case with Portugal, is another European market in expansion. Pabisa also participated in Foire Vakanz, in Luxembourg, a mixed event for professionals and with sales in situ to the public.
Within the framework of the tourism calendar for 2018, Pabisa Hotels has also been present at a highly visible level at Fitur in Madrid and the ITB in Berlin. These are two shows where, as well as being an opportunity for promotion, there is also a great deal of contracting work undertaken and it allows us to assess the new season which, for Pabisa, has started with a very positive outlook.
Tags: Pabisa Hotels
---
all inclusive hotel Mallorcaall inclusive hotel Playa de Palmaall inclusive hotels Mallorcabest all inclusive hotels Mallorcabest hotels Playa de PalmaPabisa HotelsPlaya de PalmaPlaya de Palma beachpromotional tourtourism