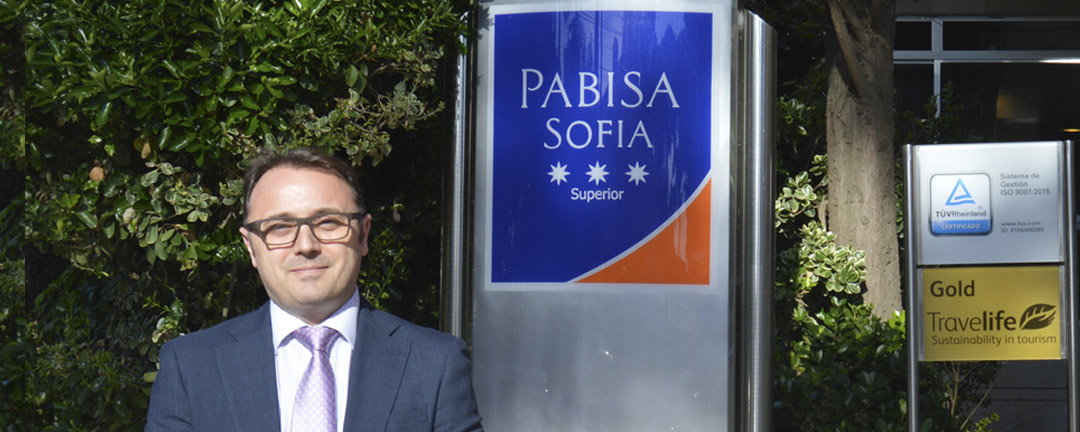 At the Pabisa Sofía hotel, our guests feel like they are at home
Pau Julià has been managing the Pabisa Sofía hotel since April 2017. He has worked with Pabisa Hotels in several posts and at different stages of his career: he worked at the Bali hotel when he first started in 2006 and then went on to manage the Pabisa Chico. He spent five years of his professional career with Barceló hotels in Majorca and Fuerteventura, and also managed the Nova Beach Lounge complex. His motto: professionalism and proximity towards the client.  
QUESTION: How would you describe this season at the Pabisa Sofía?
ANSWER: As always, the season has started very well, because we are fortunate enough to have very loyal clients who not only enjoy the hotel and our facilities, but also love to see our staff and look forward to meeting up with them every year.
Q: Have the guests noticed any changes this year?
A: The most noticeable change has been to our restaurant, where we have changed the décor, furnishings and the style of cuisine on offer. We have replaced the traditional tablecloths for more elegant individual place settings and we have changed the decoration in the buffet area. The cold section has more salads and crudités, and more individual dishes which is also the case with the hot section. We have also placed more emphasis on show cooking and we continue to provide themed dishes from Wednesday to Sunday: Asian, Spanish – the favourite – , Hollywood and Italian.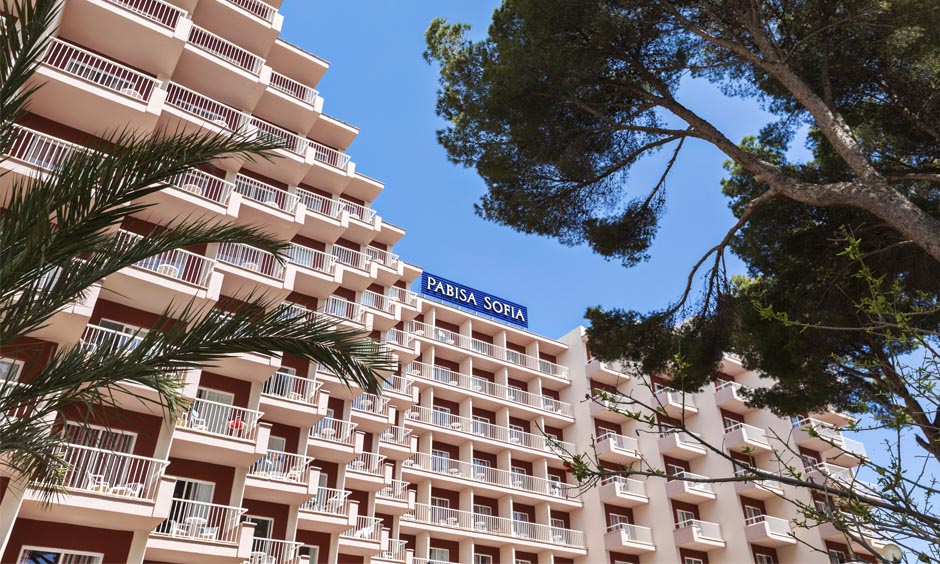 Q: And with regards to Pabisa Hotels, how has the company evolved since you began to work for the chain?
A: I started when the company had just two hotels, the Bali and the Chico.  From then on, everything has improved and moved towards a greater level of professionalism, from the reservations systems to stock control and everything in between. Changes have always been positive and, to be perfectly honest, this makes everyone's job easier.  
Q: If you had to describe to someone what they could expect from a stay at a Pabisa Hotels establishment, what would you say?
A: Firstly, and fundamentally, what differentiates us from the competition is our high level of professionalism. At the same time, we treat our clients in an informal, friendly and close manner and make every effort to get to know our guests and, if they are repeat clients, we like to reward their loyalty with special gestures.
Q: Why does the Pabisa Sofía hotel stand out?
A: Mostly, because of the great atmosphere. We have a large, relaxing garden with lots of pine trees and professional, friendly staff whose aim is to meet and exceed the expectations of our guests and ensure their stay is as pleasant as possible so that, hopefully, they will come and stay with us again. We stand out in this area because of the little things, especially the great, friendly service.
Q: Is free WiFi an important consideration these days for clients?
A: WiFi is now essential for all our guests, even our older clients ask about WiFi as soon as they arrive. In these times of globalization, internet communication is a must. At the Pabisa Sofía hotel, guests travelling with TUI have free connection throughout the establishment and all other guests can use the WiFi in the lobby free of charge.
Q: Lots of hotels aspire to the four-star category these days, but the Pabisa Sofía hotel has decided to stay in the three-star superior category. Why do you think it's necessary to maintain the option of this category in Majorca?
A: There has to be an option available for every type of client and every budget. Years ago, holidays were a luxury, only within reach of the privileged few, nowadays, a holiday is considered by most people to be a necessity. At the Pabisa Sofía hotel, really, we provide four-star service, but for a lower price as we have decided not to move up to a superior category. For example, at the pool, rather than making guests order at the bar, we provide table service which results in a more professional and friendlier service.
Q: The Pabisa Sofía hotel is neighbour to the legendary Bierkönig bar, but the Playa de Palma has much more to offer. What are your favourite parts of this resort and the rest of Majorca as a whole?
A: Playa de Palma has something for everyone. There are hotels of every category, from the most modest to the most luxurious in order to cater for every budget and every type of tourist. There is plenty of nightlife for those who like to party and if you are looking for a quiet terrace with great views, you have the Nova Beach Lounge. Every type of ambience is available in Playa de Palma. You also have a wonderful long white sandy beach and crystalline waters and really good transport links to the city and the airport. From the rest of the island, my favourite route is the one passing through Valldemossa, Deià and Sóller. In Valldemossa I like to stop and have a coffee and a coca de patata, a sweet traditional potato bun. At Deiá you just have to stop at the viewing points and take a few photos of the stunning scenery and then the ideal end to the route would be a delicious paella or seafood stew in the Port of Sóller.
Tags: Pabisa Hotels
---
All inclusive holidays Mallorcaall inclusive hotel Mallorcabeach holidaybest cycling hotelcity tour palmadiscover Palmafamily holiday MallorcaMallorcaMallorca hotels