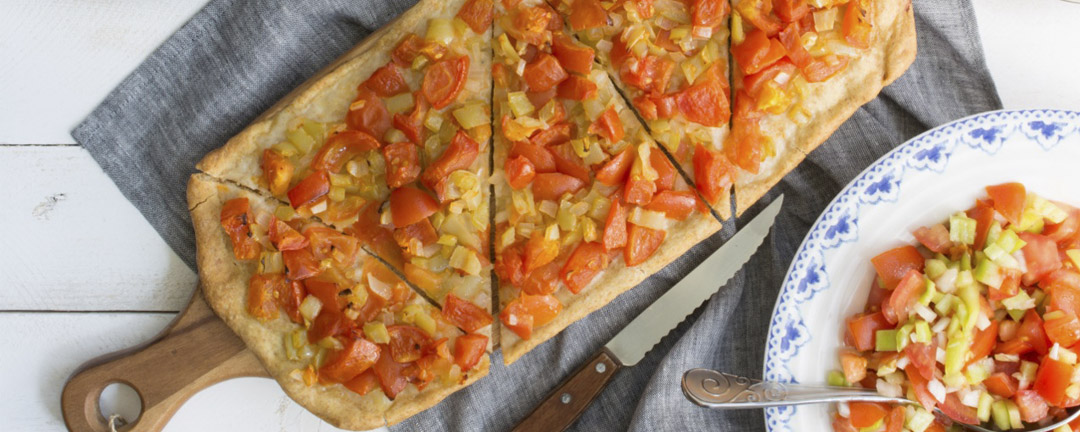 Typical Majorcan dishes
Typical Majorcan dishes
Majorcan cuisine is just as contrasting as the island's landscapes. Diversity, Mediterranean taste, fresh and seasonal quality ingredients. Whether you're a fan of almonds, olive oil or sobrasada, here are some authentic dishes that both locals and visitors always enjoy. 
Trampó – The Mallorcan Salad
One very typical Majorcan dish, the Trampó salad, is an exquisite blend of tomatoes, Majorcan green peppers, onions, oil and salt. This tasty salad well accompanies any dish and is especially refreshing in summer.
The quality of its basic ingredients plays a big role. Juicy tomatoes, freshly picked peppers and tender onions are all flavoured with high-quality Majorcan olive oil, the irreplaceable protagonist of most island dishes. Gourmets who like to experiment will add other ingredients such as apple, capers, beans or olives. 
Frito Mallorquín – The historical dish
When visiting the island you can't miss the opportunity to try one of Mallorca's most historical delicacies, the frito mallorquín, that dates back to medieval times. Roasted meat is mixed with fried vegetables including potatoes, red peppers or onions, and zested with garlic, pepper, laurel and other herbs.
This versatile dish can change from season to season as other vegetables such as artichokes or green beans are added. A specialty is the frito de matanzas that is prepared with different kinds of pluck whereas the frito marinero replaces meat with seafood including shrimp, mussels, squid and fish. 
Gató de Almendra – The almond cake
All those with a sweet tooth will enjoy Mallorca's typical almond cake that is powdered with sugar and usually served with a scoop of ice cream. A gató de almendra is best enjoyed with a cup of tea, coffee or even hot chocolate.
Made from almonds, an island ambassador, as well as sugar, eggs and other secret ingredients this simple but tasty dessert surprises with sponginess and a rich flavour.
Featured image: Foto: tastymediterraneo.com
Tags: Mallorca
---
all inclusive Playa de Palmacuisine Mallorcaeat Mallorcaholidays Mallorcahotels MallorcaHotels Playa de PalmaMajorcan cuisineMajorcan kitchenMajorcan recipesMallorcaMallorca foodMallorcan cuisineMallorcan recipesMediterranean recipesPabisa HotelsPabisa Hotels Playa de PalmaPabisa MallorcaPalma de MallorcaPlaya de PalmaPlaya de Palma Hotels