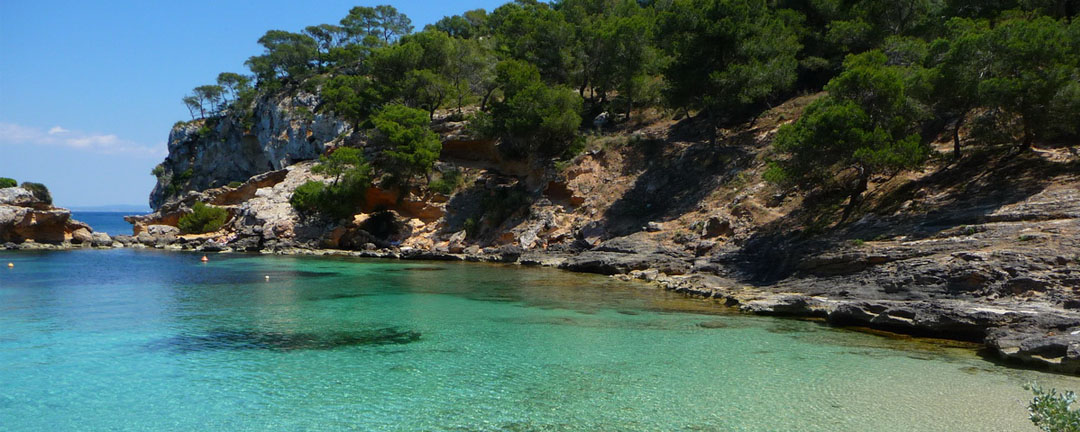 4 coves next to Palma you have to visit at least once!
This island called Mallorca will never seize to amaze you. That's a fact. And while you're staying at one of our Pabisa Hotels, the best all inclusive hotels at Playa de Palma, you will be very close to the capital city of the Balearic Islands, Palma. We've recently recommended you some sightseeing in Palma, which we think are a must when coming to the island. But you will also be right at one of Mallorca's largest beaches: Playa de Palma. This kilometric Sandy beach is heaven for everyone who thinks of holidays equal beach. But there's more to our location you just gotta love. We're surrounded by beautiful little coves and today we're recommending:
4 coves next to Palma you have to visit at least once!
Playa del Mago
Located next to Portals Vells in the south-western part of Mallorca, El Mago is a stunning natural beach situated in an unspoilt small cove with beautiful surroundings. It's a really small beach, which is why it gets really busy during Summer months. The beach has fine-grained white sand with a gently slope into the crystal clear water. Playa del Mago is also known as the first naturist beach in Mallorca and is still very popular among naturists.
Cala Fornells
One of the coolest about Cala Fornells is that it's actually a little bit of both: rocky and Sandy. It stretches about 80 metres wide and 4 metres deep and amazes visitors with its clear water, which is perfect for snorkelling. Overhanging pine trees offer areas of natural shade and add to the overall charm of the cove.
Cala Comtessa
Located only a few kilometres away from Palma, Cala Comtessa and its sister-beach, Illetas, are the beaches you can reach the easiest by bus, as the bus number 3 finishes its route right there. The beach is surrounded by rocks on one side and pine trees on the other. The beach offers sunbeds and sunshades during high season and is very popular among both, locals and tourists.
Illetas
Located nine kilometres away from Palma, this beautiful little beach has a length of around 100 metres and around 50 metres deep. The sand is soft and golden, and the sea crystal clear! Sun beds and parasols are available to hire, and there are toilets, ramps for the disabled and lifeguards on duty, in addition to a beach restaurant called 'Balneario Illetas', which we would highly recommend!
Tags: Palma de Mallorca
---
beach holidaybeach Mallorcabest beach Mallorcabest beaches near Palmacoves Mallorcafamily holiday Mallorcaholidays Mallorcaholidays Playa de PalmaMallorcaMallorca beachesMallorca holidaysMallorca PabisaPabisaPabisa HotelsPabsia Hotels all inclusivePalmaPlaya de Palma